Rosen Spasov – writer, director, producer – born in Sofia, Bulgaria in 1987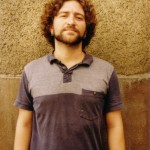 He has a Ph.D. in ,,Screen arts'' at the Institute of Art Studies in Bulgarian Academy of Sciences.
He is currently working as a film expert in the International relations department of the Bulgarian National Film Archive and freelancing as an independent filmmaker.
Member of the Union of Bulgarian Filmmakers since 2015.
Selected filmography:
Personnel, 25`, 2010
Special jury prize at Exit extreme film festival
Bansko Film Festival, In Competition
Season, 23`, 2013
Bansko Film Festival, In Competition
Green Valley – the path to Eiger, 16`, 2013
Bansko Film Festival, In Competition
Days of Challenge Festival
Early bird student film festival 2014 – In competition
Nikola Golev – composer, original score – born in Blagoevgrad, Bulgaria in 1992
He is currently studying Tourism and Alpinism in the National Sports Academy. He is actively practicing winter sports, cycling and mountaineering.
His professional hobby is writing and composing musical themes in various genres – from jazz to heavy metal. Mano is his first film project.
Alexandra Elezova – art and graphic designer – born in Sofia, Bulgaria in 1991
She graduates in Animation from the National Academy of Theatre and Film Arts in 2014. Bulgaria. Her professional interests include animation, photography, storyboard, web and graphic design, film criticism and many more.
Her animated short Portrait (2017) won the Best Animation Award at the Early Bird Festival 2017.
She is the graphic designer and one of the creators of the online media: www.Outshined.net
More Credits:
Cinematographer – Prodan Kirov
Editing – Dimitar Yakimov
Sound and sound design – Veselin Zografov
Drone operator – Antonio Valchev
Color grading – Tsvetoslava Ivanova
Additional footage – Ivan Stoyanov
Photographer – Rumen Kolchagov
Teaser editing – Ralitsa Kamenova
Archive still photos – Ivan Stoyanov, Albena Stancheva, Manol Kalniev
PR – Sania Spasova
English subtitles – Mihail Grigorov
Special thanks – Ani Nikolova
Thanks – Antonia Kovacheva, Galina Gencheva, Bulgarian National Film Archive
Ivan Obreikov, Ulen Ltd.
Kristiana Ilieva, QM Media